Do you currently use the Calibre desktop program to organize your eBook library, but want to sync that library into BookFusion so you can more easily read across multiple devices and sync your progress and highlights? No problem! We've created a plugin for Calibre that will let you do just that, and this article will guide you through how to use it.
The below topics will be covered in this help article:
Download and Install the Plugin
Download and Install the Plugin
Step One
From within Calibre, you'll need to open the Preferences screen and then click the Plugins option in the Advanced section at the bottom.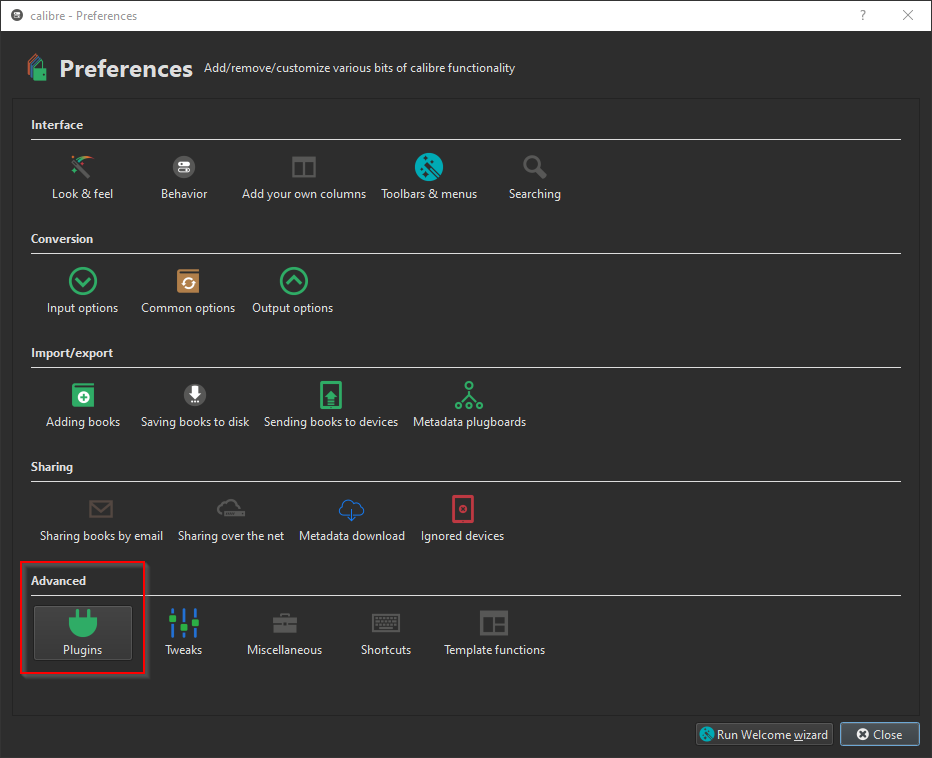 Step Two
From here you'll have two options for installing the plugin, and we'll go over each one.
From the Plugins screen, click the "Get new plugins" button at the bottom to browse the available plugins in the directory.


You'll be presented with a list of plugins to choose from, but all you need to do is type "BookFusion" into the "filter by name" search field at the top right. It'll show you the plugin we've made for you, so now you just need to select it and click the "Install" button at the bottom right and confirm you want to add it to Calibre.

Alternatively, you can manually download the plugin using this link. Once you've downloaded it, you'll just need to click the "Load plugin from file" button on the Plugins screen and it'll automatically install it.

Once you've installed the plugin using either of the above methods, you might also be prompted to add an icon to the main toolbar so you'll always have it easily available when you want to sync, or you can even choose to add it to the context menu so you can right click on an individual title to sync it. Once you've confirmed your choice you'll want to restart Calibre and then return to the Plugins section in order to configure it.
Configuring the Plugin
Step One
From the Plugins screen you navigated to previously, expand the "User interface action" section, then click on the BookFusion Plugin and then click the "Customize plugin" button.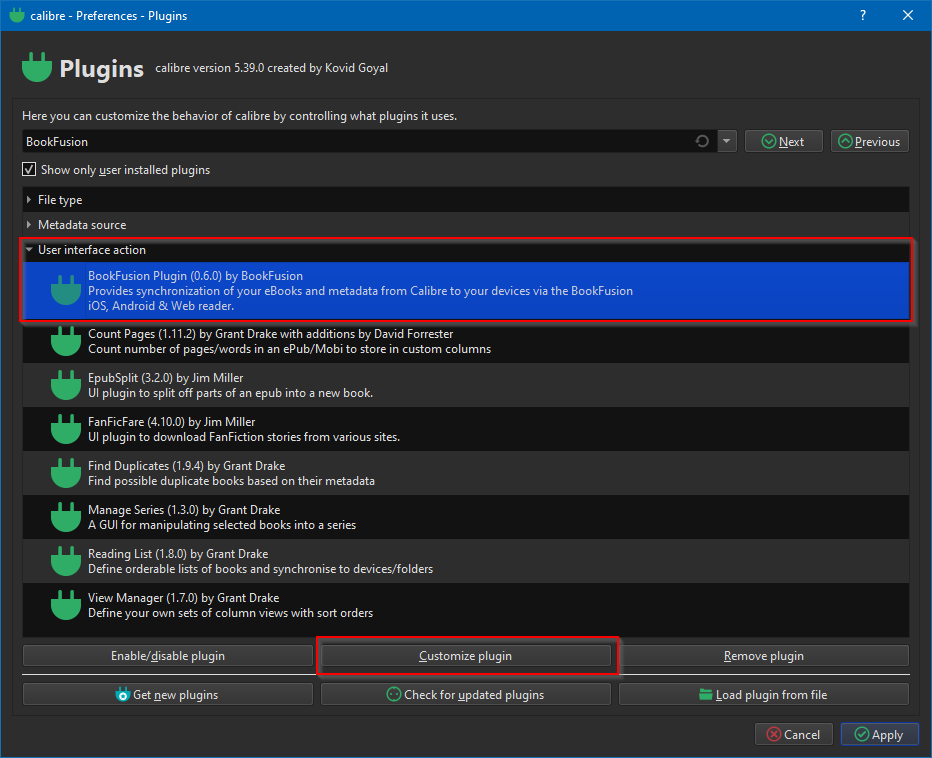 Step Two
You'll see the below screen where you'll be prompted for your unique BookFusion API key. You can also choose whether or not to update metadata during any sync performed (this is generally preferred) and how many sync threads to run simultaneously (how many books it will work on at the same time); if you have a slower internet connection, it's probably best to keep this at 1 or 2.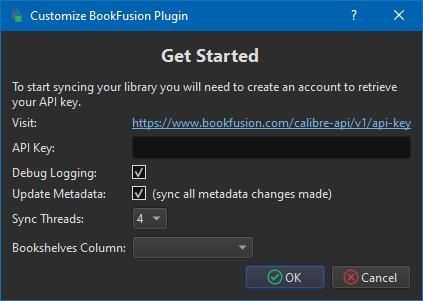 Step Three
You can click the link on the pop-up (linked here for convenience) in order to get your API key from your BookFusion account settings, or open the settings from the website and choose the "Integrations" -> "Calibre" option. If you don't already see a key listed, just click the "Create API Key" button and then you can copy what it generates and paste it in the Calibre pop-up from above.
Using the Plugin
Step One
Now that you've got the plugin downloaded, installed, and configured - it's time to use it! If it's your first time using the plugin, you will most likely want to do a complete sync of your entire library. To do this all you need to do is click the BookFusion icon on your toolbar (or wherever you chose to display it) and choose the "Sync all books" option.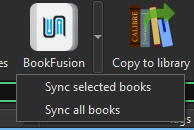 You'll be prompted with the sync dialogue box seen below, and all you need to do is click the "Start" button. Depending on the size of your library this might take a while, but you can leave it running and step away until it's done. If for some reason your internet gets interrupted during the sync and it tells you it couldn't finish, just choose to sync all again and it'll continue where it left off.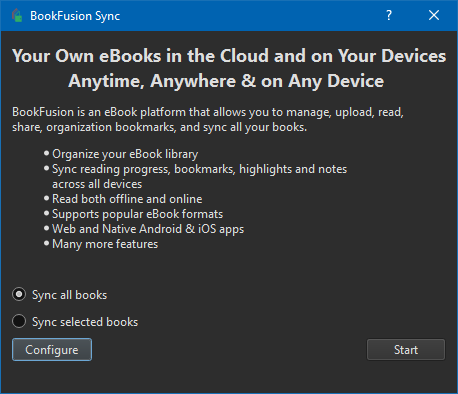 Step Two
If you've already done a full sync or maybe you don't want to push your entire library into BookFusion, you can alternatively just select the books you want and only sync those. For this example, I'm only going to sync four of my favorite classics that are available in the public domain for free. I've selected them all and after clicking the BookFusion icon I'm going to choose to only sync the 4 books instead of everything.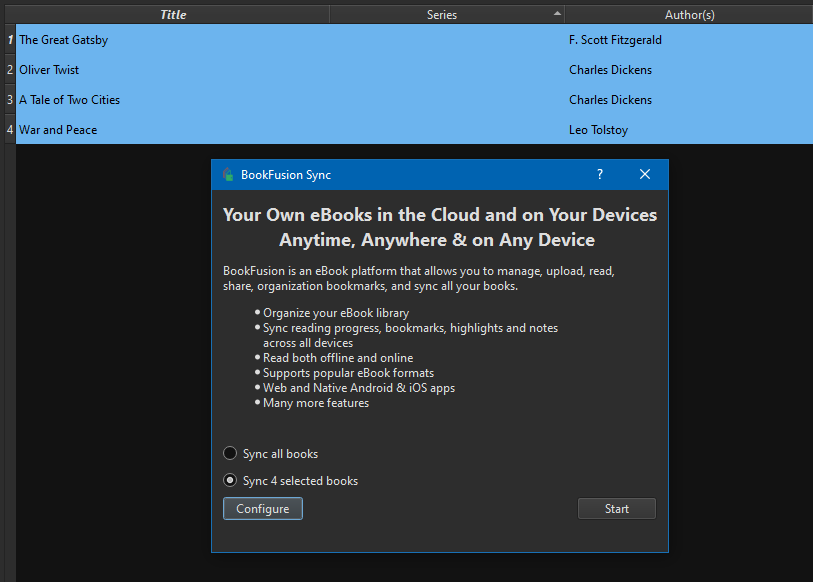 Once they're done syncing you'll be prompted with a confirmation like the below, where the plugin will tell you it's done and what it did to each book. In the case of these four, they were already in my BookFusion library from a previous sync, but I'd updated some metadata and added nicer book covers, so it updated them with those changes. You'll see other messages like "added" if it's a new book that isn't in your BookFusion library yet or "skipped" if it's already there and there haven't been any changes since you last synced it.

That's all there is to it! Right now this sync is one-way which means it will only push your updates from Calibre into BookFusion, not the other way around, but that may change in the future. Additionally, we're planning to improve the plugin to eventually support some custom columns as well and allow you to automatically add your Calibre books to virtual bookshelves in your BookFusion library. Keep an eye on this support article for updates as these features are rolled out. Enjoy!