We know that sometimes you'll want to be able to link straight to some content within your BookFusion account to make it even faster to get to the information you're looking for, so this help article is meant to give you the steps to create what many refer to as a "deep link" that goes straight to that content.
Linking to a Bookmark
If you ever want to be able to quickly jump straight into a book and land on a specific section, no matter where you previously left off, then setting a bookmark is a good idea. You can do this by clicking the bookmark icon at the bottom right of the screen while you're reading, next to the progress bar that runs along the bottom of the screen. Once you've set the bookmark it'll turn red to let you know it's saved.
In this example, I would like to create a bookmark for the beginning of Chapter 5 in "A Tale of Two Cities" by Charles Dickens.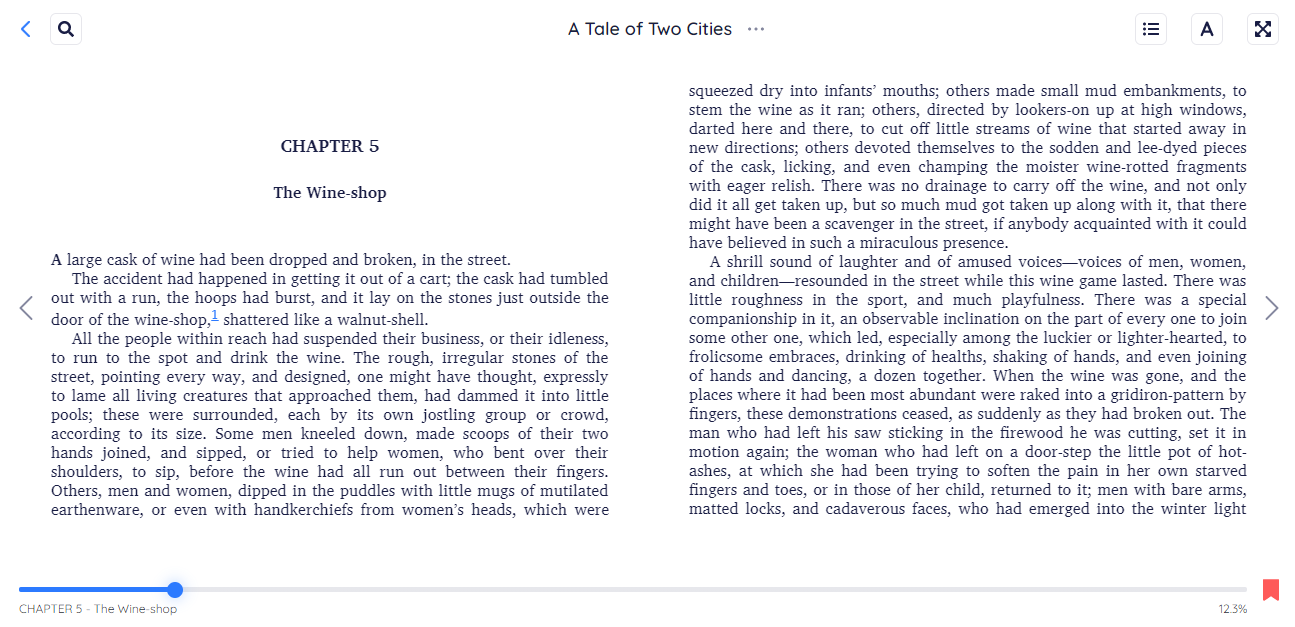 Now that I've created it, it's time to grab the link. To do this you'll click on the Navigation icon in the top right corner, then move to the Bookmarks screen. From here you'll see any bookmarks you've created, and now you can right click on any of them and choose to copy the link from the context menu that appears.

Just save that link wherever you want to make use of it later and now you can quickly get right back to that spot in your eBook.
Linking to a Highlight
If you'd like to jump straight to a specific highlight you've made, the process is very similar. All you need to do is navigate to the Highlights page from the main bookshelf screen and pick which of the highlights from all your books you're wanting to link to. Once you've decided, just right click on the book's cover and choose the same copy link option from the context menu.
In this example, I'll be copying the link to the first highlight on the page, a quote I wanted to save from "The Great Gatsby" by F. Scott Fitzgerald.

With the link copied, all that's left is to paste it wherever it is you want to save these types of links, and you're all done.