BookFusion is happy to provide a free tier for users who have small libraries and don't need any of the more advanced features, but for those who would like to manage a larger library, get the benefit of more amazing features, or just generally want to support the platform while you use it, we have a Billing section in your user profile's settings in order to make it possible to bill for any paid subscriptions you have. This will also make it possible for you to purchase books or other content from the publishers in our Store.
Adding a Credit Card
If you need to add a payment method for the first time you can do so by navigating to the Settings page of your account. This is easily accessed by clicking on your user profile button in the top right corner and then choosing the Settings option.

Once you're in the Settings area, you'll just click on the Billing option in the left navigation in order to get access to the Subscription management and Payment Method settings. In this example you'll see that I don't have a credit card on file yet, so I'll be clicking the "Add Payment Method" button.

Next up you'll see a screen where you can enter your credit card information in order to allow purchases on BookFusion. Once you've filled out all the necessary information, just hit the "Save card" button and you're good to go.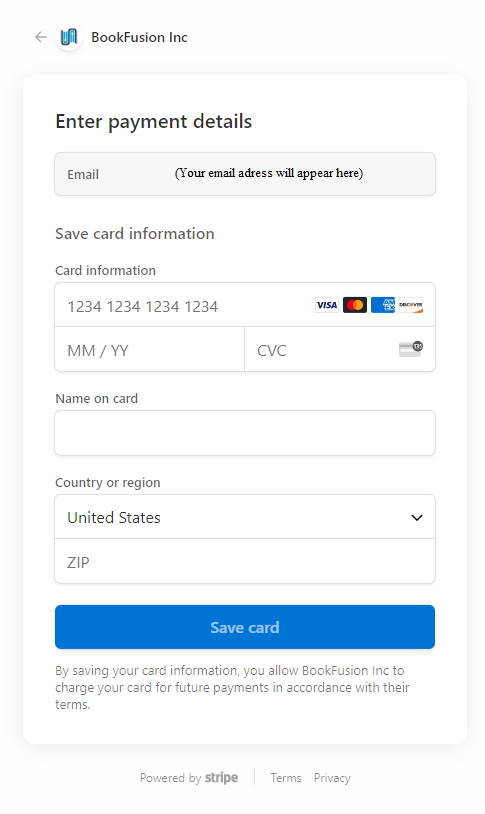 Updating or Removing a Credit Card
If you already have a payment method on file but you need to change it, you'll do in the very same area as the above. When a credit card is already associated with your account, you'll see it listed as your Payment Method and you can click the "Update a Payment Method" if you need to change any of the information, or you can click the trash can icon to the right in order to completely remove the payment method we have on file for you.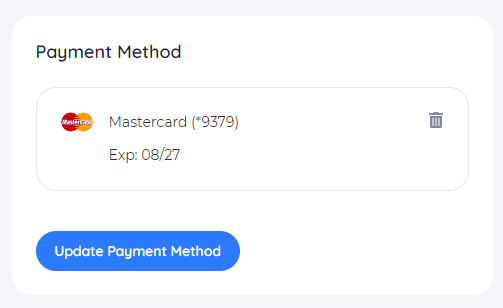 Please note that if you completely remove your payment method and you have an active subscription to BookFusion, your account will be reduced to the free tier when billing is unable to be completed.