Sometimes you might want to make the same change to a group of books at once, so using the bulk update function will save you a lot of time. You can use it to update tags, add books to bookshelves, or even delete them from your library, and much more!
Step One
When you hover your mouse pointer over a book title you'll see a selection circle appear in the top right corner.
Clicking this will select that book and allow you to click anywhere on the cover of other books you want to select without having to select the same circle on each. Once multiple selections are made, you'll see them with blue checkmarks, like below.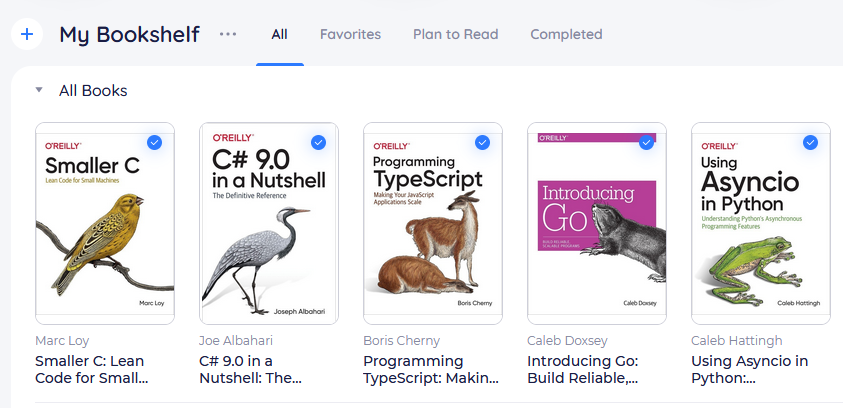 Step Two
At the bottom of the screen you'll see options for what you can do while selecting multiple eBooks. You can quickly have all the books on your screen selected so you don't have to click each of them individually, or you can start updating all the selected titles using three buttons on the right.

Move To will let you move your selection between shelves, such as marking them all as Completed or adding them to your Plan to Read shelf.
Bulk Edit will open up a screen of metadata fields that you can update and the changes will be applied all at once.
Delete will remove all selected titles from your BookFusion account completely.
Step Three
On the updates pop-up screen you'll see options for all the changes you can apply to the books you selected in previous steps. You can update all these pieces of information, as many of them as you'd like at once, and then click the Update button at the bottom to apply the changes.
Be sure to double-check before you click Update if you're updating a lot of books at once, that way you don't have to go back and fix mistakes afterwards. :)