Whether you have a big or small digital library, making use of our Virtual Bookshelf feature will allow you to organize your eBook collection into customized shelves with any content you select from your main shelf.
In this help article you'll see that I already have one virtual bookshelf created for my favorite indie authors, but now I want another one where I can keep track of any eBooks that I have which are in the public domain, meaning they're available for free.
To get started you'll want to click on the "+" button next to "My Bookshelf" from your main screen.


It'll prompt you to give your new bookshelf a name, so pick one that describes what you're going to be adding to that shelf. In this example, I'll name mine "Public Domain" since that's what kind of books I'm going to be putting there.


Now that your new shelf is created, just click the button that says "Add Books, then select the books from your library that you'd like added.

You can add as many or as few as you'd like just by clicking on each cover and then clicking the "Add to Bookshelf" button in the bottom right. If you have a larger library, you can make use of the search on this screen to quickly any book from your library that you want.


Once you've done this, you'll be taken to your brand new virtual bookshelf where you can see any of the books that you selected in the last step.

And if you go back to the main Bookshelf screen, you'll also see your new shelf listed there with quick access to the titles you've shelved.


Once the shelf has been created, you can still go back and make changes at any time. You can always update the name of the shelf, add more books to it, or even delete the shelf entirely if you don't need it anymore. All of this is possible by clicking the three dots to the right of your virtual bookshelf's name and then selecting the option for what you want to do.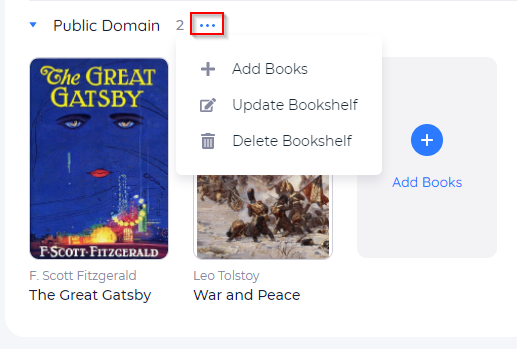 You can also see any bookshelves that an eBook is in by viewing the book's details, which you can access just by clicking on the book cover and then choosing the Edit icon in the bottom right corner.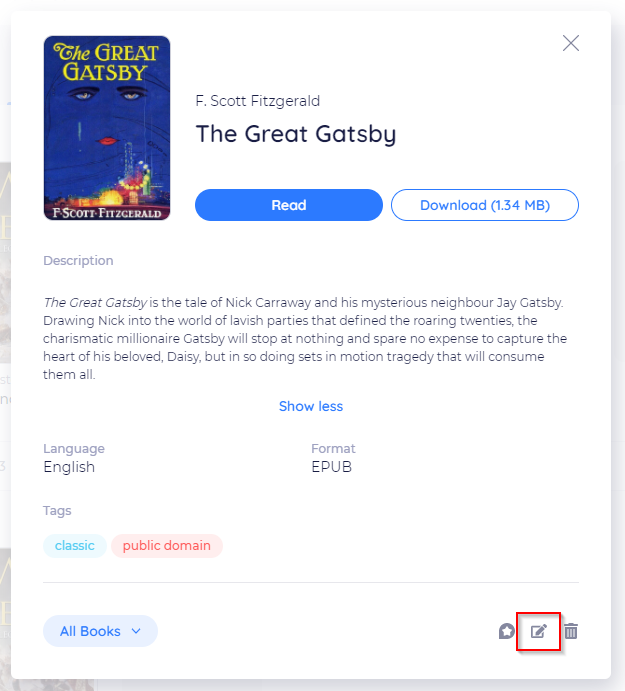 From here just navigate to the Bookshelves tab and you can see any that it's already assigned to and either add or remove as many as you'd like.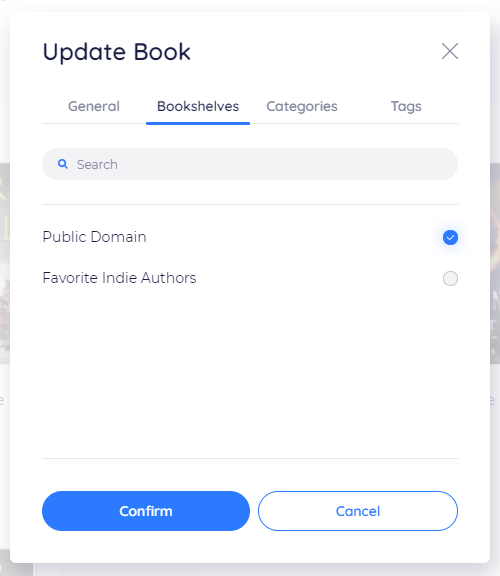 You can even add a new virtual bookshelf right from this screen! If you type a shelf name into the search bar that doesn't exist yet, it'll give you the option to add a shelf by that name instead. For this example, maybe I want to also keep a separate shelf for any Classics in my library.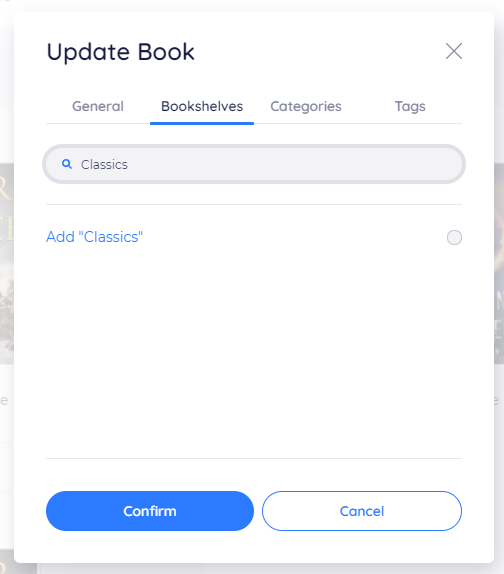 And that's all there is to it! You can create as many virtual bookshelves as you need and add as many books to each as you'd like. These shelves will be available anywhere you sign in, including our mobile apps, so organize to your heart's content. Enjoy!